One of the spokespersons of the aggrieved workers who spoke to the GNN, said the employees took the decision to halt all activities at the airport due to the failure of management to see reason in settling their unpaid salaries.
The protesters, who are mainly contractors on Thursday started a go slow strike in demand of their two months pay and demanded to be paid off before an Arab company takes over three of their departments.
The head of the aggrieved workers, Henieh Dorbor on phone on Thursday said that "management has refused to make  two months' pay to them."
Besides the two months arrears, the management of RIA has outsourced the flight maintenance, Cargo handling and other areas to a Kuwaiti company-NAS
.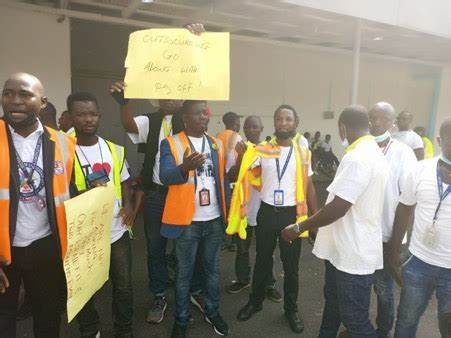 According to them, they are not objecting to the outsourcing of the three places.
"But management is telling us that we   should be with the new company for one year on probation after which they will decide our fate. If they do not take us after one year, they can decide to lay us off. We think this is bad labor practice.  If they do not need us, let them pay us off and go," Dorbor said.
This action is expected to affect the movement of flight today.  They are calling on the Ministry of Labor to intervene.
Watch the video below:
Source: GNNLiberia